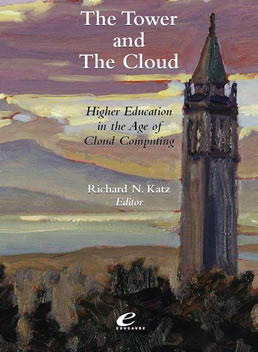 The link to "Readings" at the top of this blog page takes you to stuff I'm reading – however, so enthused am I by this recent publication, I decided it merited a post of its own. Cloud computing is the biggest new thing that will happen to IT departments in learning institutions for a long while. To get an overview and clear perspective of the issues I recommend The Tower and the Cloud.
The blurb reads:
"The emergence of the networked information economy is unleashing two powerful forces. On one hand, easy access to high-speed networks is empowering individuals. People can now discover and consume information resources and services globally from their homes. Further, new social computing approaches are inviting people to share in the creation and edification of information on the Internet. Empowerment of the individual—or consumerization—is reducing the individual's reliance on traditional brick-and-mortar institutions in favor of new and emerging virtual ones. Second, ubiquitous access to high-speed networks along with network standards, open standards and content, and techniques for virtualizing hardware, software, and services is making it possible to leverage scale economies in unprecedented ways. What appears to be emerging is industrial-scale computing—a standardized infrastructure for delivering computing power, network bandwidth, data storage and protection, and services. Consumerization and industrialization beg the question "Is this the end of the middle?"; that is, what will be the role of "enterprise" IT in the future? Indeed, the bigger question is what will become of all of our intermediating institutions? This volume examines the impact of IT on higher education and on the IT organization in higher education."
Read a pdf version of the book HERE
Using the WorldCat citation service the full bibliographic details are:
KATZ, R. N. (2008). The tower and the cloud: higher education in the age of cloud computing. [Boulder, CO], EDUCAUSE.